ASP Live Help
by John Avis | August 6, 2007 | Classic ASP Web Development
I developed this application for an on-line store. The code is quite messy because it took me lots of attempts to get right but it now operates almost perfectly.
Live Help is a messenger type application written mostly in ASP but with lots of JavaScript. It uses the ASP Application object to store information.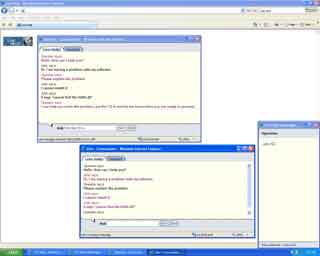 An operator (or multiple operators) can sign in then bring up a messenger type window which displays the status of conversations and requests. They enter their name which is shown to the other party during conversations.
Someone using the web site can see the status of Live Help - either available or not available. If available they can click the link to request a conversation with an operator.
To initiate the conversation they enter their name which is shown to the operator.
The operator(s) will hear a ringing sound to indicate an incoming conversation request. They can either accept the request, ignore it or decline it. If the request is ignored it will eventually expire and (or if cancelled, will occur immediately) the user will be prompted to try again later or leave a messge (which is delivered via normal email).
If the request is accepted a two-way conversation can take place in a messenger style environoment. The system displays messages from both the operator and user including the time of last message received and plays a sound to indicate a message received. The conversation can be ended by either party at any time. It will also display a message if the other party is typing a message.
Download the sample and give it a try on any ASP server.
Installation
Unzip the file into your root web folder. All files will then be unzipped into a foler called 'livehelp'. It will not operate correctly if in any other folder without modification.
The system will now work as is for demonstration/test purposes. If you wish to integrate into a web site then changes are neccessary.
'request.asp' contains an email address where any messages are sent if a user cannot contact Live Help. This should be changed to an email address of your choice. It may also require changes if CDOSYS is not available or if you need to specify a mail server.
'Default.asp' and 'user.asp' are required only for demonstration/testing and should be removed prior to proper use in your own web site. They do contain functions and procedures which will need to be used in your own scripts and pages.
You will need to incorporate the JavaScript functions and operator link contained in 'default.asp' into your own administration or web site back end. The operator pages should only be able to be accessed by authorised persons so you will need to implement your own security. At present these scripts check for a session variable 'admin' being true.
In any web page where you wish for users to be able to use Live Help from you will ned to include the JavaScript function and VB Script Sub contained within 'user.asp'. Then simply call 'LiveHelpStatus' where you would like the status image/link to be displayed.
Demonstration
Simply unzip the file in the root of your web or localhost web folder.
Open the 'default.asp' page.
Click sign in as operator and enter a name for yourself.
Then you can sign in as a user either on the same or another computer and enter a name for yourself to request a conversation.
You should hear a ringing noise and in your operator messenger window you can accept the request.
Conversation windows will then pop-up and you can converse as required.
Download Live Help
(updated 16-Jul-2008)
License: Freeware
Updates
16-Nov-2007: There has been reports of the chat application not scrolling down automatically to show messages. 'chat.asp' has been updated which seems to have solved the problem.
20-Nov-2007: I have found the issue causing problems with Firefox. Download the following file for the fix. Unfortunately in Firefox it doesn't display "...is typing a message" or play sounds but at least now it works.
16-Jan-2008: I have fixed a few bugs including the non-functioning decline chat function. If you click the download Live Help link above you will receive the latest version of all parts of Live Help. Changes are to request.asp, getusers,asp, messenger.asp.
16-Jul-2008: I was advised that LiveHelp wasn't working with Safari so I have had to make some modifications for it to work. Click the download link above for the latest version.
Related Posts
by John Avis | May 6, 2020
If you are having intermittent problems sending email in .NET using System.Net.Mail consider switching libraries.
---
by John Avis | November 4, 2019
As support ends for Microsoft Windows Server 2008 I have recently gone through migrating some websites to a new server running Windows Server 2016 and IIS 10 but some of the websites did not work.
---
by John Avis | October 15, 2019
For a website project I needed a way to enter multiple tags. I just wanted something simple that I could easily modify to suit my own needs, so I wrote my own.