eBay Australia FAIL - Get $0 Off (BLOOM) special offer 15 May 2019
by John Avis | May 13, 2019 | eBay and PayPal Computers & Internet
Sometimes you get special offers that seem too good to be true... But not this time.
I always keep an eye out for discount coupons from eBay Australia, but the one I received today, 13 May 2019, is a bit disappointing.
The email I received today from eBay says, "Get $0 Off* Expires 14 May, 2019 Coupon code: BLOOM *Terms & Conditions apply."
$0 Off? That doesn't sound very good. And what are the terms and conditions? And must I act quick so I can get $0 off before the deal expires?
Surprise, but this appears to be a mistake. When I click the link in the email it gives details on the BLOOM coupon code which appears to actually be if you buy two items you get 15% off the lower priced item (minimum spend A$75), although it is confusingly worded:
"The offer entitles you to 15% off the purchase price (excluding postage costs) of one item when you buy a second item listed on www.ebay.com.au."
Ah, no thanks, eBay.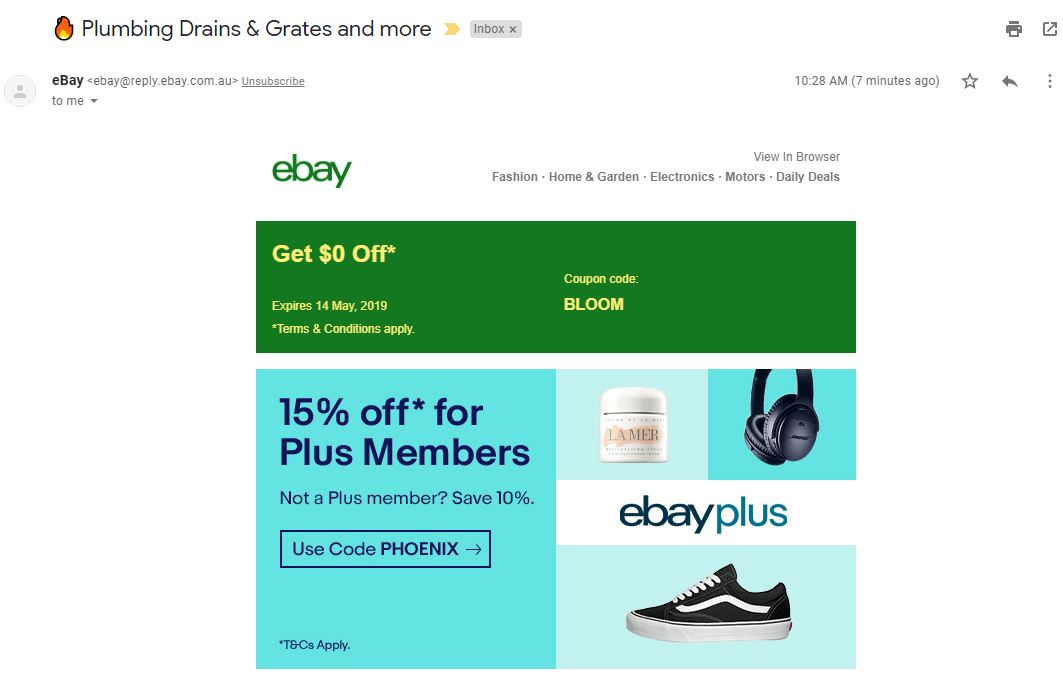 Related Posts
by John Avis | November 4, 2019
As support ends for Microsoft Windows Server 2008 I have recently gone through migrating some websites to a new server running Windows Server 2016 and IIS 10 but some of the websites did not work.
---
by John Avis | September 4, 2019
Am I right? Is it not possible to send an Instagram DM (Direct Message) on a desktop? Here's how to do it though.
---
by John Avis | October 10, 2018
For your security it is critical that you use strong passwords that are unique for each website.